GUIDED MAINE SEA DUCK HUNTS – MAINE EIDER HUNTING & FISHING WITH TRADITIONS GUIDE SERVICE
ABOUT CAPTAIN TROY FIELDS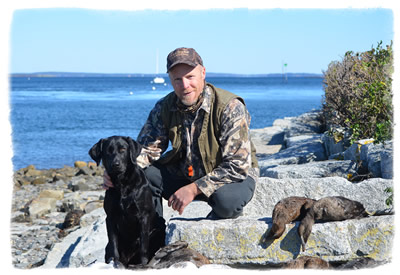 Having spent my entire life in the Maine woods and on it's waters, I've enjoyed many memorable moments and my goal now is to make sure you have the opportunity to create your own Maine memories.  Growing up in the era of wool hunting clothes and Bean boots, I still follow that tradition today, hence Traditions Guide Service.  I would also be remiss if I didn't thank my dad for taking me out in those younger years when I couldn't go alone.   I have fly fished and camped the Rangeley Lakes and Baxter State Park regions which boosts many ponds holding native brook trout.  I have fought stripers in the currents of the Saco River and blue fish on Saco Bay.  Been fortunate enough to do my own New England slam on turkeys.   Received my moose permit in 2013 and shot a 907lb bull, chased whitetails through the woods and swamps of southern Maine and who could forget my beagles…listening to them make a musical path with their voices of where that snowshoe hare traveled.
Duck hunting entered my world when I was 25, around 1990, and albeit the introduction, I am self taught with this water fowling adventure.   It started with puddle ducks from small boats and jump shooting area brooks and pot holes.   My first sea duck long line consisted of hen mallards and Clorox bleach bottles!  A lot has changed since then; I've had my Master's Maine Guides License and Master 100 ton USCG Captain's  License since 2004.  My sea duck long lines now consist of New England handmade decoys, puddle duck spreads are traditional L.L.Bean cork decoys and my lab Pearl entered the game in 2012.
My ethics and upbringing are "Old School".   "Do it right the first time and build it like it's your castle" are examples of how I was taught to do things.  I consider myself a blue collar guide in that I have worked hard to get here, I know you worked hard to earn the money you are using to hire me and in turn, I will give it my all to make sure your adventure is everything you hoped it would be.
Thanks for your consideration,
Troy Fields

Remember, Traditions don't just happen; they need to be passed along.
BOOK A HUNT WITH TRADITIONS GUIDE SERVICE…
MAINE'S ULTIMATE SEA DUCK HUNTING EXPERIENCE!
Traditions Guide Service offers excellent shooting opportunities for Eider, Scoter, and Long Tail Duck on the beautiful coastline of Maine. Book a hunt with Registered Maine Master Guide, Captain Troy Fields and experience what Maine has to offer.