GUIDED MAINE SEA DUCK HUNTS – MAINE EIDER HUNTING & FISHING WITH TRADITIONS GUIDE SERVICE
MAINE HUNTING TESTIMONIALS
This spring, I booked a guided turkey hunt with Troy Fields. I am a past master Maine Guide and avid hunter / fisherman. My buddy Paul (Vietnam vet and hero accompanied me).
We hunted May 2nd and 3d at Troy's camp in Shapleigh, Maine. Opening day, Troy led us, in darkness, to the most magnificent field I've ever seen. It was probably 1,200 meters across to towering white pines and maybe double that in width spotted with immature apple trees. At dawn the Toms started gobbling on the opposite side of the field. Troy initiated his calling (the best I've ever heard) and within an hour we had a magnificent Tom (leading about ten hens) strutting directly towards our decoys. Troy seemed to have a conversation with these birds. At about 100 yards, the Tom, clearly, spotted our decoys and turned completely white (demonstrating absolute dominance)! He strutted directly at the decoys and I took him at around 25 yards. The following morning Troy doubled down and took Paul to the same field and did it again. Paul took his Tom while I took another in a different location.
The point of my story Is that this outfitter is, without question, the best I've ever been around. He treated Paul (who just had knee replacement surgery) like he was the President. We were treated like family or kings (your call). The camp was immaculate, and the overall services were beyond description. Bottom line, I recommend this guide for novice and experienced hunters alike. You will never find a better bang for your buck and you'll make a new friend!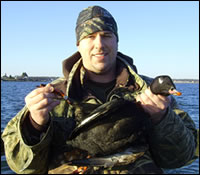 Hunting eider with Troy Fields of Traditions Guide Service was one of the best value for the dollar hunts I've ever taken.  I've been all over the United States and South America chasing waterfowl, and I can't remember a bird more exciting to shoot than a Maine eider.  When you combine Troy's enthusiasm for the sport with his personality and incredible rates, its going to be hard to find a better value anywhere.  I can't wait to come back and do it again!
Britt Broadhurst
Penn Valley, California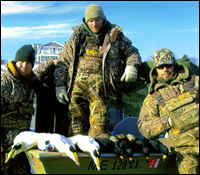 After going to Maine for my Honeymoon and seeing all of the sea ducks from the shore, I was determined to return for a hunt in the upcoming January season.  I have been duck hunting the New Jersey bays for my entire life.  We have shot our share of sea ducks, but never could have been prepared for the action that we had in store with Traditions Guide Service.  The Common Eider has been my favorite duck for quite some time.  The size and beauty of these ducks are beyond belief!
I began my search online for a guide service that would not only bring us to the ducks, but provide a personal experience as well.  And that is exactly what we found with Traditions.  After reaching out to Troy and speaking with him a few times, I knew immediately we had found what we were looking for.  My hunting buddies and I have been on many guided hunts for deer and ducks, and not all of them were a success.  Not because of lack of animals, but because of guides that weren't friendly or fun to be around.  Troy was the perfect example of what we, and everyone, should look for in a guide.  He was very quick to return my calls, answer any questions and concerns that I had, and let me know exactly what we needed to bring, and be prepared for.
After getting the license and arriving in Maine, Troy had us meet him at the boat, and we were off.  The weather was not very helpful the first day, and we had to keep a bit closer to shore.  Troy made us all feel very safe in the rougher weather, and still managed to put us on the birds.  We didn't shoot any drake Eiders the first morning, but took a handsome White-wing Scoter, and a bunch of Black Scoters and Oldsquaw.  One of my hunting partners is a professional taxidermist, so we were being very selective.  We could have shot many more ducks if we wanted.  The second mornings weather was a bit better, so we ventured out to a different spot where we had some great action.  We shot close to our limits, and a couple of drake Eiders, mounting quality, which was exactly what we were after.  We were amazed at not only Troy's knowledge of duck hunting and the area we were hunting, but even more impressed at how quick he was with getting the decoys set up and retrieving downed birds.  Troy was a true professional, and a heck of a nice guy to be around.  We shared many hunting stories, and had a lot of laughs.  The third and final day of our hunt was a day that we will not forget.  We were covered in ducks.  We shot not only our limits, but shot 6 gorgeous drake Eiders, 4 drake Scoters, and 2 drake Oldsquaw, all of which were trophy quality.  And after the hunt, we were also lucky enough to see a Harlequin duck while driving around the shallow bays!
In closing, I would strongly recommend booking a hunt with Traditions Guide Service in the near future.  The hunting is amazing, and Troy is the best in the business.  I promise it will be the hunt of a lifetime!  If anyone would like to know more, fell free to call me to discuss.
Michael Sherwin
973-568-8850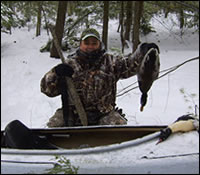 After having hunted with many other guides previously, approximately 5 years ago I hunted with Troy for the first time. Since then, I have hunted with Traditions dozens of times, sometimes hunting with Troy for more than 12 occasions during a single year.
The most striking detail in hunting with Troy is that I never had the feeling that it was simply a business transaction- as I did with most of the other guides I had previously hired. Troy goes above and beyond to find the 'right spots,' is extremely well knowledgeable, and is witty. While either ridding to an island in Saco Bay to hunt sea ducks, or driving to a 'honey hole' to enjoy puddle-duck hunting, or to a preferred turkey or deer location, I have enjoyed great conversations with Troy and always end my hunts feeling that I have learned something else. I can't wait for another season to arrive!
For anyone looking for a guide in Maine, Troy from Traditions Guide Service should be your choice.
John DeMelo
Tewksbury, Massachusetts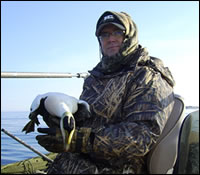 I had the pleasure of hunting several mornings with Troy Fields, Traditional Guide Services in December '07. There is only one way to describe hunting sea ducks with Troy, BEYOND BELIEF!
Troy is a professional in every aspect. His gear is of the highest quality and he begins the hunt with safety first. I'm a seasoned puddle duck hunter but, a new comer to the sea duck arena. The temperature was minus 15 chill factor; snow in the forecast and winds generating six-foot rollers. My comfort level was shaky at first, only due to the weather, but soon elevated to a secure and relaxed feeling just watching and listening to Troy work the helm and maneuver his boat through the Atlantic spray and darkness of the Portland waterways.  The experience was captivating and priceless, and the hunt had not even begun.
Troy has the ability to focus and react quickly on all aspect of the hunt. He not only watches the weather, he dials in on wildlife habits. He knows what affects their routines. He will quickly make corrections in position and placement to make sure the hunt is productive. What worked yesterday may need fine tuning today. After a slight adjustment in location he repositioned the long line decoy spread and we began to bang away on the sea ducks. It took me a little while to adjust to the level of quickness of the birds. It also is entirely different than puddle duck hunting. Sea ducks move at high speeds 3 feet above the water where as mallards in the mid-west fly high in the sky. You can call a mallard and entice them to drop down and visit your decoy spread. In most cases giving you a few seconds to prepare. Whereas, the sea duck may appear 100 yards out screaming past you in a blink of an eye. After a few rounds and many laughs I got the hang of it and began dropping birds.
I will saver the memories of my hunt with Troy and I look forward to joining him again. I wish every duck hunter could experience a hunt such as mine with Troy. It makes one appreciate Mother Nature under extreme conditions with comfort level just knowing you are safe and sound with a professional.
Joe Box
President
Hard Core Decoys
"Coming from the central U.S., I had only watched videos and read about Maine and sea duck hunting. Troy knows the "game" and answered all of the questions I had, before, and during my hunt.  He went out of his way to make my three days hunting really great, and the whole experience truly memorable.  If you're looking for a great hunt, I'd recommend Troy, and Traditions Guide Service."
Ron Peach
Troy,
Thanks for the great day- and all the support that you've given DU through the years.   Many thanks for the memories and all the help.
Jim
Hey Troy,
I just wanted to thank you again for my father and I. We had a great time hunting with you. Yesterday I got the info on my banded Eider and it was a little bit of a let down. The bird was banded in march of this year at pine point in Scarboro. So it's a local bird, still an incredible trophy though.
Have a good Christmas!
Andy Seuffert
Troy,
I just wanted to thank you again for a great hunt. Ben is pumped about all of his Eiders.
Nerry Xmas,
Kurt and Ben
Troy,
Thanks again for a great hunt, it was probably the best one I've had with the kids in ten years of them.  Your demeanor with the boys was very much appreciated.
Have a Happy New Year.
Robert
Hey Troy,
I forgot to send you a picture we took when we got back home. We lined up all the birds on the truck. Just thought you'd like to see them all piled up! When I get some of them mounted up I will send you some pictures. Gotta get some of the customer work out first though! Thanks again for an amazing trip,
Jake Doty
Troy,
I wanted to thank you for providing Dick and I with great hunts each day. We both appreciate you going above and beyond. Watching sea ducks, especially eiders fly over the water is an incredible site. Saturday's hunt with the sea smoke was very cool.
Cheers,
Jamie
BOOK A HUNT WITH TRADITIONS GUIDE SERVICE…
MAINE'S ULTIMATE SEA DUCK HUNTING EXPERIENCE!
Traditions Guide Service offers excellent shooting opportunities for Eider, Scoter, and Long Tail Duck on the beautiful coastline of Maine. Book a hunt with Registered Maine Master Guide, Captain Troy Fields and experience what Maine has to offer.