GUIDED MAINE SEA DUCK HUNTS – MAINE EIDER HUNTING & FISHING WITH TRADITIONS GUIDE SERVICE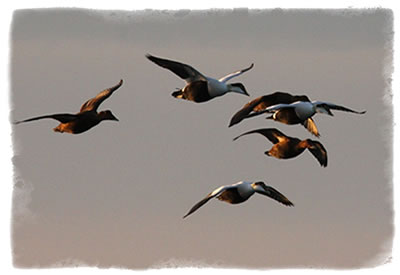 Hunt Maine for Sea Ducks, Sea Ducks, and more Sea Ducks!  Enjoy hunting Maine's coast for Eiders, Scoters and Old Squaws.  Experience Maine's premier wing shooting, sea ducks come in low and deceivingly fast, making the shooter not only admire their beauty, but agility and speed as well.  Once you've experienced this type of wing shooting it's hard not to want to go again. The birds fly shortly after legal time and the action can be the best the Atlantic flyway enjoys.
Our sea duck season starts mid November and runs through mid January.  All the months can be action packed yielding opportunity at all five species of sea ducks.
Your Maine Sea Duck Hunt will start early and we'll be set up in the 23' Duck Water or the Core Sound X2 layout boat.  The Duck Water is as good it gets for sea duck boats and has a full blind attached if needed.  With our long lines deployed and ready, it won't be long before the action starts.
Sea Duck Hunting Rates:
$275.00/hunter Two Hunter Minimum / Four Hunter Maximum, more upon
discussion.
$325.00 One person hunt special…
I also guide other hunts in Maine for Rabbits, Deer, Moose and Turkeys, but my passion is Duck Hunting, especially on the BIG water of the Atlantic Ocean for Maine Sea Ducks.
Traditions Guide Service is located in Southern Maine on Mousam Lake.  Lodging is seasonal, from April through November.  The Mousam Lake Cottage sleeps up to 6 people and is only a few feet from the shoreline.  There are docks for boat tie up and the shoreline is sandy and gradual which is great for swimming.  Fishing on the lake is good and yields just about all the freshwater species that the state has to offer.
Whether it's peace or purpose, Traditions Guide Service can meet your needs.
Remember, Traditions don't just happen; they need to be passed along
BOOK A HUNT WITH TRADITIONS GUIDE SERVICE…
MAINE'S ULTIMATE SEA DUCK HUNTING EXPERIENCE!
Traditions Guide Service offers excellent shooting opportunities for Eider, Scoter, and Long Tail Duck on the beautiful coastline of Maine. Book a hunt with Registered Maine Master Guide, Captain Troy Fields and experience what Maine has to offer.