GUIDED MAINE SEA DUCK HUNTS – MAINE EIDER HUNTING & FISHING WITH TRADITIONS GUIDE SERVICE
MOUSAM LAKE COTTAGE RENTAL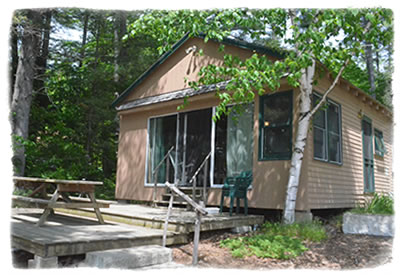 Mousam Lake is one of Southern Maine's most popular lakes.  Maine Vacationer's have been coming here for generations.  Mousam Lake is located perfectly between the White Mountains of NH and Maine's Atlantic coastline.  The cottage sits on eastern shores of Mousam Lake, this enables you to have the sun virtually all day.  The shoreline is clean and gradual.  Docks are provided for boat tie up as well as fishing and swimming.  The cottage has open concepts on the interior, the front half is primarily living space and the back half for sleeping quarters.  The cottage has 3 bedrooms, 2 single beds in one and double beds in each of the other two.  A 3/4 bathroom makes up the forth room in the sleeping area.  The cottage is fully equipped with refrigerator, stove/oven, microwave, coffee maker, cable television and A/C in the sleeping quarters.  It does not have a telephone at this time, although cell phone reception is fair.  There is a monitor heater in main living area if needed.  House-trained pets are okay provided they are discussed prior to arrival.  NO smoking in the cottage.
Cottage Rental Rates:
$800.00 per week – June 15th thru Labor Day Week
$400.00 per week – April, May, June, Sept, October and November
Weeks Run Saturday to Saturday
Check out by 11:00 a.m , Check-in after 1:00 p.m.
I also guide other hunts in Maine for Rabbits, Deer, Moose and Turkeys, but my passion is Duck Hunting, especially on the BIG water of the Atlantic Ocean for Maine Sea Ducks.
Traditions Guide Service is located in Southern Maine on Mousam Lake.  Lodging is seasonal, from April through November.  The Mousam Lake Cottage sleeps up to 6 people and is only a few feet from the shoreline.  There are docks for boat tie up and the shoreline is sandy and gradual which is great for swimming.  Fishing on the lake is good and yields just about all the freshwater species that the state has to offer.
Whether it's peace or purpose, Traditions Guide Service can meet your needs.
Remember, Traditions don't just happen; they need to be passed along.
BOOK A HUNT WITH TRADITIONS GUIDE SERVICE…
MAINE'S ULTIMATE SEA DUCK HUNTING EXPERIENCE!
Traditions Guide Service offers excellent shooting opportunities for Eider, Scoter, and Long Tail Duck on the beautiful coastline of Maine. Book a hunt with Registered Maine Master Guide, Captain Troy Fields and experience what Maine has to offer.