GUIDED MAINE SEA DUCK HUNTS – MAINE EIDER HUNTING & FISHING WITH TRADITIONS GUIDE SERVICE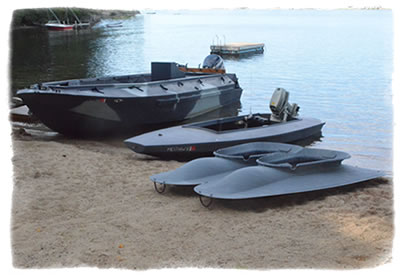 The Duck Water 23' Ocean Series
The work horse of my outfit and go to boat for 90% of my trips.  This boat is big, strong and comfortable!   Equipped with all the required safety gear and a 225hp Evinrude Etec, it will get us out and back safely and quickly (if need be).  The boat has a 360 degree blind system that allows for added concealment if we need it.  Large enough to handle almost any size gunning group yet easy enough to handle for a single hunter and myself.  This boat is the real deal when it comes to sea duck hunting.  These boats are built in Ohio by Steve Hoover.
The Devlin Scaup
Hunting from the Scaup provides the opportunity to hunt shallow smaller water than the Duck Water can get into comfortably.   Think of it as a larger BBSB (Barnegat Bay Sneak Box), it handles many different conditions and covers up well.  It has a low profile and can easily take two hunters.   I typically use this boat when hunting inland waters and also on some coastal puddle duck hunts where we need to get back in the tidal rivers and marshes.   The Scaup is a boat rich in hunting tradition and style, it is glass over wood construction and this particular boat was made right next door in New Hampshire by my good friend Rob Cutting.
The X2 from Core Sound Layout Boats
This is the 2016 design from Terry Rose at Core Sound Layout Boats.  It is a two person boat with a capacity of 750lbs, yet easy and light enough for two people to handle without effort.   It has molded cockpits, shell holders and a large foot area for added comfort.  This boat allows you to be right in the thick of it, decoying birds in your face with shots under 20 yds.   The X2 is a great addition and offers new and exciting opportunities for hunters and will be utilized for years to come.
BOOK A HUNT WITH TRADITIONS GUIDE SERVICE…
MAINE'S ULTIMATE SEA DUCK HUNTING EXPERIENCE!
Traditions Guide Service offers excellent shooting opportunities for Eider, Scoter, and Long Tail Duck on the beautiful coastline of Maine. Book a hunt with Registered Maine Master Guide, Captain Troy Fields and experience what Maine has to offer.