GUIDED MAINE SEA DUCK HUNTS – MAINE EIDER HUNTING & FISHING WITH TRADITIONS GUIDE SERVICE
GUIDED MAINE WHITETAIL DEER HUNTS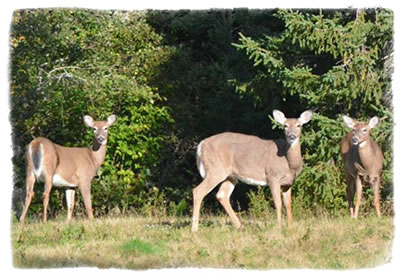 Southern Maine deer hunts are on terrain that consists of old farmsteads, oak and beech ridges, cedar swamps, and swales.  Tree stand hunting is a favorite and most of my stands are ladder style stands and a few climbing sticks with lock-on platforms.  These hunts are semi-guided.  The stands are set so that they are watching travel corridors to and from bedding/feeding areas.   Doe permits are a plus, the district I hunt is zone 20.  Buck sightings are around 20%.  Southern Maine's muzzle loading season occurs the Monday after Thanksgiving and runs for two weeks.  Hunting on snow is definitely a possibility during this season.
Bucks average 135-180 lbs, Does average 80-125 lbs.
Deer Hunting Rates:
$100.00/hunter/day, 5 day minimum.
These hunts are semi-guided.  I will walk you into the stands each morning, it is up to you how long you hunt.  I am available for tracking and removal of the deer from the woods via a cell phone call.
For current Laws, Regulations, License Fees and Season Dates click on www.state.me.us/ifw/
I also guide other hunts in Maine for Rabbits, Deer, Moose and Turkeys, but my passion is Duck Hunting, especially on the BIG water of the Atlantic Ocean for Maine Sea Ducks.
Traditions Guide Service is located in Southern Maine on Mousam Lake.  Lodging is seasonal, from April through November.  The Mousam Lake Cottage sleeps up to 6 people and is only a few feet from the shoreline.  There are docks for boat tie up and the shoreline is sandy and gradual which is great for swimming.  Fishing on the lake is good and yields just about all the freshwater species that the state has to offer.
Whether it's peace or purpose, Traditions Guide Service can meet your needs.
Remember, Traditions don't just happen; they need to be passed along.
BOOK A HUNT WITH TRADITIONS GUIDE SERVICE…
MAINE'S ULTIMATE SEA DUCK HUNTING EXPERIENCE!
Traditions Guide Service offers excellent shooting opportunities for Eider, Scoter, and Long Tail Duck on the beautiful coastline of Maine. Book a hunt with Registered Maine Master Guide, Captain Troy Fields and experience what Maine has to offer.