GUIDED MAINE SEA DUCK HUNTS – MAINE EIDER HUNTING & FISHING WITH TRADITIONS GUIDE SERVICE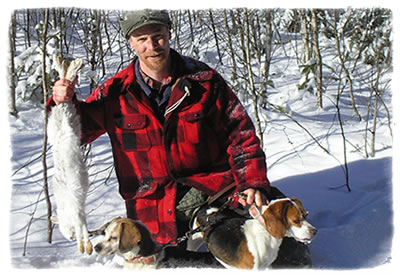 Maine snowshoe hare guided hunts.  Your hounds or mine, this is a great way to introduce someone to the outdoors. Spend a day in the woods, listen to the hounds, and test your skills on snowshoes. Two and three day hunts offered in the western mountains of Rangeley.  In Rangeley, snowmobiles are used to get off the beaten path. The hounds will work hard to make your day a memorable one. We hunt morning and afternoon with a break for a cookout lunch.
Typical season:
Oct-1 thru Mar-31 Limit 4 per day/ 8 possession.
For lodging accommodations contact one of these establishments:
Pleasant Street Inn Bed and Breakfast
Rangeley Town and Lake Motel
Rabbit Hunting Rates:
$125.00/hunter, two hunter/two day minimum.  These hunts are in Rangeley and overnight accommodations must be made by the hunter.
I also guide other hunts in Maine for Rabbits, Deer, Moose and Turkeys, but my passion is Duck Hunting, especially on the BIG water of the Atlantic Ocean for Maine Sea Ducks.
Traditions Guide Service is located in Southern Maine on Mousam Lake.  Lodging is seasonal, from April through November.  The Mousam Lake Cottage sleeps up to 6 people and is only a few feet from the shoreline.  There are docks for boat tie up and the shoreline is sandy and gradual which is great for swimming.  Fishing on the lake is good and yields just about all the freshwater species that the state has to offer.
Whether it's peace or purpose, Traditions Guide Service can meet your needs.
Remember, Traditions don't just happen; they need to be passed along.
BOOK A HUNT WITH TRADITIONS GUIDE SERVICE…
MAINE'S ULTIMATE SEA DUCK HUNTING EXPERIENCE!
Traditions Guide Service offers excellent shooting opportunities for Eider, Scoter, and Long Tail Duck on the beautiful coastline of Maine. Book a hunt with Registered Maine Master Guide, Captain Troy Fields and experience what Maine has to offer.