GUIDED MAINE SEA DUCK HUNTS – MAINE EIDER HUNTING & FISHING WITH TRADITIONS GUIDE SERVICE
GUIDED MOOSE HUNTING IN MAINE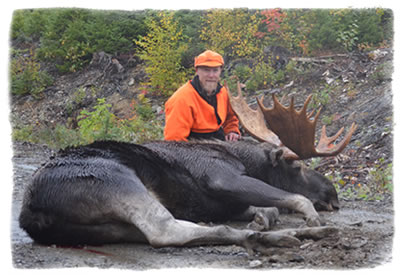 Hunting Maine's moose is a hunt of a lifetime.  What a thrill to harvest the largest member of the deer family. With animals weighing in between 600 and 1000 lbs. you'll definitely want a helping hand. Four wheelers, ropes, pulleys, chainsaws, you get the idea. Let Traditions Guide Service guide you during your hunt of a lifetime.  Hunts can be arranged anywhere in the state.
Moose Hunting Rates:
$3000.00/permit holder and sub-permit holder.
This includes, camping and meals, complete one on one guide service, transportation during the hunt and removal of animal from the woods. (butcher fees are not included or provided).
I also guide other hunts in Maine for Rabbits, Deer, Moose and Turkeys, but my passion is Duck Hunting, especially on the BIG water of the Atlantic Ocean for Maine Sea Ducks.
Traditions Guide Service is located in Southern Maine on Mousam Lake.  Lodging is seasonal, from April through November.  The Mousam Lake Cottage sleeps up to 6 people and is only a few feet from the shoreline.  There are docks for boat tie up and the shoreline is sandy and gradual which is great for swimming.  Fishing on the lake is good and yields just about all the freshwater species that the state has to offer.
Whether it's peace or purpose, Traditions Guide Service can meet your needs.
Remember, Traditions don't just happen; they need to be passed along
BOOK A HUNT WITH TRADITIONS GUIDE SERVICE…
MAINE'S ULTIMATE SEA DUCK HUNTING EXPERIENCE!
Traditions Guide Service offers excellent shooting opportunities for Eider, Scoter, and Long Tail Duck on the beautiful coastline of Maine. Book a hunt with Registered Maine Master Guide, Captain Troy Fields and experience what Maine has to offer.